Stuttgart Airport was selected as third Trial partner within the Horizon2020 funded AERFOR project with the goal to improve Airport capacity through data analytics and live predictions.
Stuttgart Airport has currently around 11.7 Mio passengers per year and a growth rate of nearly 9%. These growth rates create challenges for the planning and disposition of resources at the airport. Getting closer to the originally planned capacity of 14 Mio passengers, it is time for the airport to react. Therefore, technology can help to prepare actions in order to handle more effectively the passenger flows.
Amorph Systems provides a Terminal Operations Management platform called AMORPH.aero. This platform is able to connect to various data sources and incorporate predictive patterns. The goal is to visualize an airport and its capacity constraints. Within the European funded AERFOR project the AMORPH.aero platform is continuously improved and adapted to real-world airports' requirements.
The challenge – Live predictions
The daily available numbers of security staff can differ compared to the previous planned and ordered figures. Strikes, high sickness rates, necessary training or re-allocation of staff to other German airports can produce heavy disruptions. Therefore, the airport authority decided to implement and trial the AMORPH.aero platform. Pro-active decision making instead of re-active is the key. The idea is to communicate as soon as possible the consequences of all deviations to adapt ideally before the event occurs.
The Goal – Reliable Operational Forecasts
The main target for the project is therefore the optimization of the operational predictability to enable all stakeholders at Stuttgart Airport to foresee upcoming events and disruptions in time. Therefore, Stuttgart airport is trialling the Amorph Systems software as part of the AERFOR project.
"AMORPH.aero seems to provide us an innovative solution for an efficient use of our existing capacity and seems to be flexible enough to offer the possibility to develop further functionalities and use cases."

– Riccarda Mark, Senior Expert Airport Quality Monitoring, Stuttgart Airport
The solution – Amorph Systems Flow Prediction
Amorph Systems will deliver a flexible platform solution to cover all relevant check-points and services that are necessary to monitor and predict the actual capacity of the airport. Permanent updates of the flight times ensure that Terminal operations can make pro-active decisions based on the latest information. Depending on the given SLA's, users see immediately the demand for staff to keep waiting times under a certain threshold without oversizing.
VINCI Airports is among the most dynamic players in the global aviation market with a network of 36 airports in seven countries, 12 airports in France and 10 in Portugal, including major cities such as Lyon and Lisbon.
In 2017, global air IT solution provider SITA was selected as partner to deploy airport management solutions among the airports of the VINCI group. As partner, Amorph Systems supports with its AMORPH.aero solution, whenever predictive solutions for Terminal capacity planning and operational flow management is required.
Therefore, Amorph Systems provides its Terminal Operations Management platform AMORPH.aero. This platform is able to connect to various data sources, incorporate all kinds of predictive patterns to create a full overview of the terminal capacity. Within the European funded AERFOR project the AMORPH.aero platform is continuously improved and adapted to real-world airports' requirements.
Nantes airport was selected as one of the first airports of this group to get various systems for airport management, including SITA's AMS6 and Airport Pulse platform.
With around 5.5 million passengers per year and a growth rate of nearly 15% in passenger numbers, capacity planning is a very important and truly challenging task at Nantes. Additionally, not only passenger numbers are getting higher, but also passenger behaviour is changing, for example the usage of Check-in due to self- and mobile check-in possibilities. These changes have to be transferred into the overall airport capacity evaluation, as it makes no sense to look at a single process without the impact on the whole Terminal system.
Together with the SITA Airport Pulse platform, Amorph Systems could help Nantes airport to deliver a flexible and scalable solution to cover all relevant check-points and services that are necessary to monitor and predict for the capacity planning process of the airport. With the focus on the security check-points, the system provides forecasts depending on the flight times, predicted passenger numbers and their show-up profiles at security. Depending on the given SLA's, planners see immediately the demand for staff to keep waiting times under a certain threshold without oversizing.
The past solutions at Nantes airport were siloed and made for specific processes. Therefore, they were not connected to each other and able to generate an overall picture. This leads over time to inefficiency in working with these, as the preparation, execution and comparison of results is pretty time consuming then.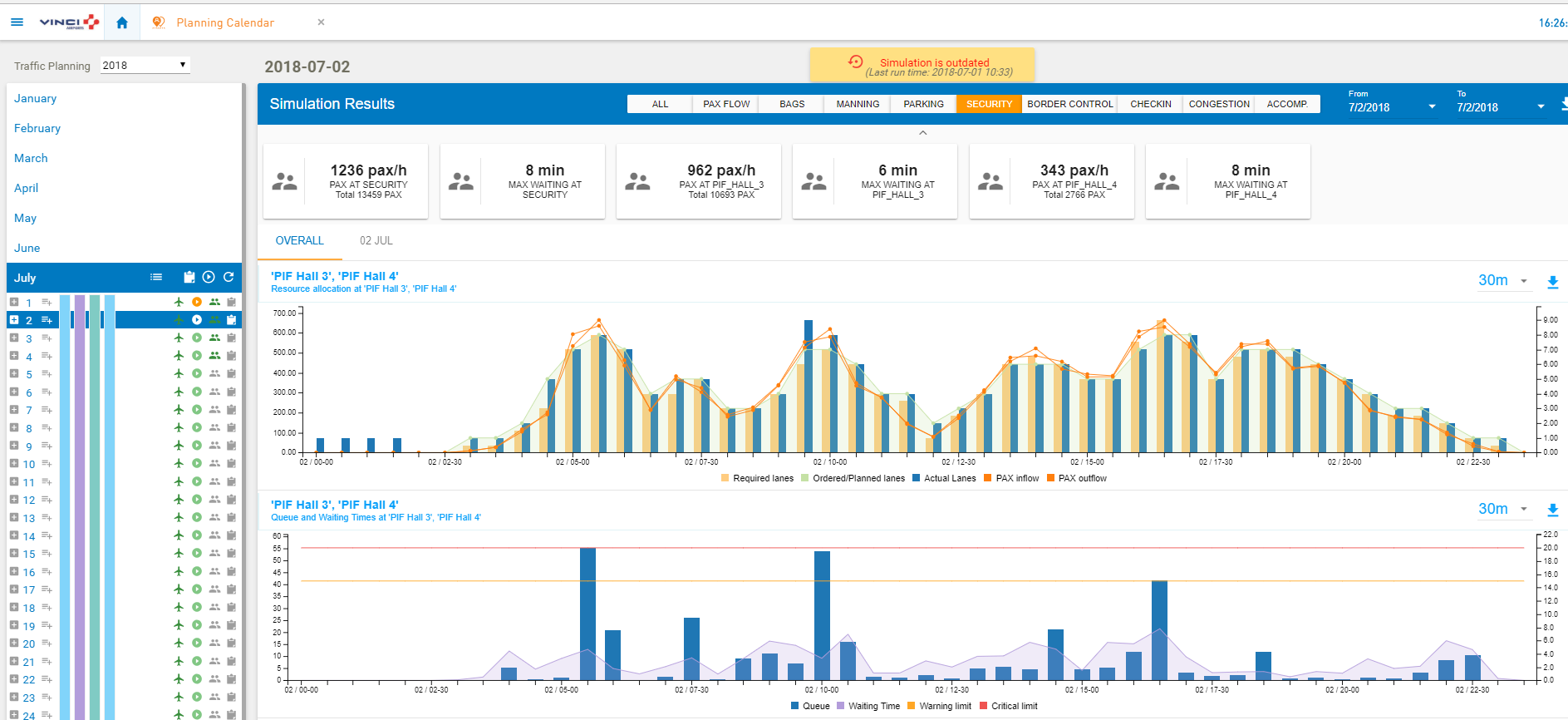 "Amorph Systems products are developed with the agile method, directly alongside players in airport management, making them immediately functional and tailored to requirements. Nantes Airport is pleased to have chosen Amorph Systems to further improve its capacity for forecasting and simulating its resource requirements."
Eric Siret, Security Systems Manager, Nantes airport
With this approach, Nantes airport managed not only to get valuable insights into their processes whenever needed, but also reduced dramatically the required working hours spent to produce valuable predictions. This gained time can now be spent to focus on other relevant topics within the planning process.
"In this project we have shown that AMORPH.aero is able to improve predictability and the daily work for planners no matter if this is a big Hub airport or a smaller regional airport like Nantes. The great teamwork together with Nantes airport colleagues made this a success."
Andreas Hofmann, Director Business Development, Amorph Systems
This case study has contributing results to the Horizon 2020 funded project AERFOR of the European Union. AERFOR has the aim to support Amorph Systems in further developing innovative solutions for capacity planning and operations at airports.
AERFOR Trial 1: Successful Implementation @ Helsinki Airport by Amorph Systems
Airports worldwide face significant growth figures in passenger numbers. IATA (International Air Transport Association) expects 3.8 billion passengers traveling by 2030. For airports, this leads to a challenge, providing the required infrastructure for smooth passenger handling. Airport expansions and infrastructure programs need to be planned years ahead. In the meantime, it is necessary to ensure the most efficient use of resources and facilities. Especially during the day of operations, efficient handling of resources depends very much on updated information and the capability to react to sudden changes. Empowering operations to plan ahead for the upcoming hours, Amorph Systems is the first provider of operational simulations, forecasting what is going to happen in the whole terminal environment. This keeps operations managers in the driver seat of their decisions to prevent disruptive situations before they occur.
Helsinki Airport, operated by Finavia Corp., is Finland's main hub and a strong transfer connection between Asia and Europe. Due to its geographical location, Helsinki is the quickest route between Asia and Europe, serving several routes to Japan, China, Thailand and others. 18 million passengers travel via Helsinki Airport. Based on this growing demand, Finavia has plans to extend in the future he airport capacity to handle more than 30 million passengers per year. Helsinki Airport has not only ambitious plans to grow, in parallel they want to offer a first-class service to their passengers. Keeping waiting times at security at a minimum, establishing easy wayfinding and inspiring areas to spend time, Helsinki is creating a key differentiator to ensure continuous growth in the future.
Amorph Systems in Stuttgart, Germany, has proven to be a trusted international partner offering professional software solutions and consulting services for air and ground transportation, logistics and high-tech manufacturing. Its portfolio includes advanced control, simulation, forecasting and optimization solutions, allowing our clients to better manage and plan their business operations. Besides the state of the art control and modeling techniques, these solutions require sophisticated visualizations and user interfaces fully integrated with the customer IT systems. With AMORPH.aero, Amorph Systems offers an aviation specific platform tailored to the needs of airports, from planning to operations, taking the rising amount of available data into account.
The project has received funding from the European Union's Horizon 2020 research and innovation programme under grant agreement No. 731246
The AERFOR-Project is granted within the European Union's HORIZON 2020 SME Instrument phase 2. The main targets of the project are to show the capabilities of AMORPH.aero, the operational simulation platform, to airports and to develop AMORPH.aero into an innovative standard software solution for further and strengthened commercialization within the European and International market. Various partners from the aviation industry such as Finavia, Fraport AG, Zurich airport and the DLR are part of the project.
Finavia was the first AERFOR trial partner. The project in Helsinki consisted of various areas from operational simulation to support the terminal operations managers, to planning solutions for short- , mid-, and long-term planning. The base installation of AMORPH.aero at Finavia helped to further standardize the solution and implementation process. With additional functionalities, the project achieved to set-up a groundbreaking solution which is the first of its kind. In the future this will include also various use-cases on top of operational control, like advertising and retail and thereby, Amorph Systems and Helsinki Airport together will show the full capabilities of AMORPH.aero.
See what the participants say about the project:
"The installation at Helsinki Airport has shown the full potential of simulation through all stages of operational and planning processes. We are delighted about this fruitful partnership with Finavia, which shows a similar mindset in being creative and innovative. Finavia wants every day to improve life for its passengers, so we do for our customers. The created solution is a milestone and will play a key role at Helsinki Airport to improve their daily operations and in a long-term, by added flexibility, a significant business value. Together we already made an impressive journey and I am very curious about what is going to come in the future."
Andreas Hofmann, Director Business Development at Amorph Systems.
"From the outset, it has been a very ambitious journey with the purpose of building us a capability to see into the near and more distant future, and utilize this capability for better capacity planning, resource allocation, terminal operation and more relevant passenger communication. To fulfill these expectations across multiple dimensions would not have been possible without the committed and highly talented Amorph team, with whom we had the privilege to work with. Now, we have a strong solution running, with a truly inspiring roadmap that will hopefully take the Helsinki Airport experience to new and unseen heights."
Eero Knuutila, Head of Service Development at Finavia